The April 2010 edition of ISO Focus+ – the magazine of ISO (International Organization for Standardization) – shows how the diversity of applications of ISO standards for radio frequency identification (RFID) facilitate worldwide trade.
The use of RFID has experienced a major kick start in the last 10 years and it is estimated that in another 10 the market will reach USD 27.59 billion – a development that would not be possible without the use of harmonized standards.
The April issue of ISO Focus+ looks at the diversity of ISO standards for RFID, highlighting some of the many areas reaping the benefits of their use: from libraries and gas cylinders to animal identification devices and cargo shipment.
The issue highlights some key examples of the use of RFID and how ISO standards contribute to a harmonized framework, improved transparency, efficiency and safety in a complex, but growing market, while optimizing business processes and reducing operational costs for companies.
ISO's RFID standards also provide significant benefits in product tracking as goods move through the supply chain, including loss prevention, inventory control, and in-transit visibility. In response to the latest market trends ISO is currently working on standards that will take RFID identification to next level.
The April issue of ISO Focus+ also feature an exclusive interview with Edouard Dayan, Director General of the Universal Postal Union (UPU) explaining how in a world increasingly driven by e-commerce and online communication, International Standards help postal services to stay competitive: "Globalization and growing economic integration is possible only with standards," he says.
The magazine also includes articles on the use of:
ISO 9001, the quality management standard, in supply chains
ISO/IEC 17025, the laboratory accreditation standard, in a milk quality programme, run by Cornell University, covering 8 000 farms in the USA.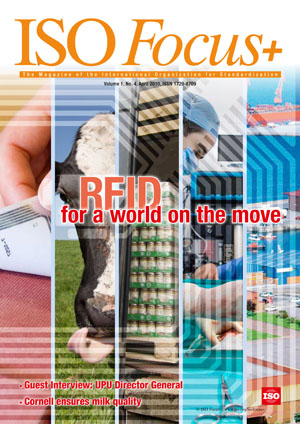 ISO Focus+, April 2010
RFID for a world on the move